ART AGENDA LISTS UPCOMING EVENTS, must-see exhibition openings and interesting talks happening this week in black art. There are myriad activities across the nation from San Diego, Chicago and Minneapolis, to Boston, New York and Washington D.C. Today's edition features "Funk, God, Jazz, Medicine: Black Radical Brooklyn," Rashid Johnson's production of "Dutchman," Phillips "Under the Influence" auction, Ralph Lemon, Wangechi Mutu, Lorna Simpson, Mickalene Thomas, and more:
Through Dec. 14, 2014
Wilfredo Lam at McMullen Museum, Boston College | Boston
"Imagining New Worlds" considers Afro-Cuban artist Wilfred Lam as a global figure whose work straddled several artistic movements and features works on paper and more than 40 paintings—many of his most acclaimed together for the first time.
Tuesday, Sept. 16, 2014 @ 11 a.m.
Under the Influence auction at Phillips | New York
Phillips auction house is holding its fall sale of works by "emerging" contemporary artists this week. A number of important African American artists are featured in Under the Influence, including Glenn Ligon, Julie Mehretu, Adam Pendleton, Mickalene Thomas, Kara Walker, Kehinde Wiley and the masterful David Hammons whose "Moving to the Other Side," a 1969 silkscreen body print (est. $100,000 – $150,000), graces the cover of the auction catalog.
Sept. 16-21, 2014
Rashid Johnson's 'Dutchman at Red Square Russian and Turkish Baths | Chicago
After staging 'Dutchman' at last year's Performa 13 Biennial in New York's East Village, Rashid Johnson is reprising his production of Amiri Baraka's 1964 fiery, allegorical race drama. Get tickets here.
Sept. 16-24 (rehearsals), Sept. 26 – 28, 2014 (performances)
Ralph Lemon Live at Walker Art Center | Minneapolis
Dancer and choreographer turned contemporary performance artist Ralph Lemon is putting the final touches on "Scaffold Room," his new "lecture-performance-musical" before it hits the road for a national tour. Visitors can watch rehearsals in the days before the performances on Sept. 26-28.
"[Ralph] Lemon calls his latest work a "lecture-performance-musical," one that refracts ideas of contemporary performance through archetypal black female personae in American culture." — Walker Art Center
Sept. 18-21, 2014
Shaquille O'Neal at Expo Chicago | Chicago
Retired basketball phenom Shaquille O'Neal has dabbled in many off-court pursuits, his latest is art. O'Neal is curating "Shaq Loves People" at Expo Chicago. Presented by the Flag Foundation, the group exhibition features portraits of people from diverse backgrounds by 30 emerging and established, critically recognized artists including Dawoud Bey, Mark Bradford, Awol Erizku, Ellen Gallagher, J.D. Okhai Ojeikere, Malick Sidibe and Kehinde Wiley.
Sept. 19-Nov. 15, 2014
Mickalene Thomas at Kavi Gupta Gallery | Chicago
For her first exhibition at Kavi Gupta since joining the gallery in March, Mickalene Thomas pays homage to her late mother and muse Sandra Bush. "I was born to do great things" offers a portrait of Bush through a collection of bronze works cast from her clothing and jewelry, personal items that hold special meaning for both mother and daughter.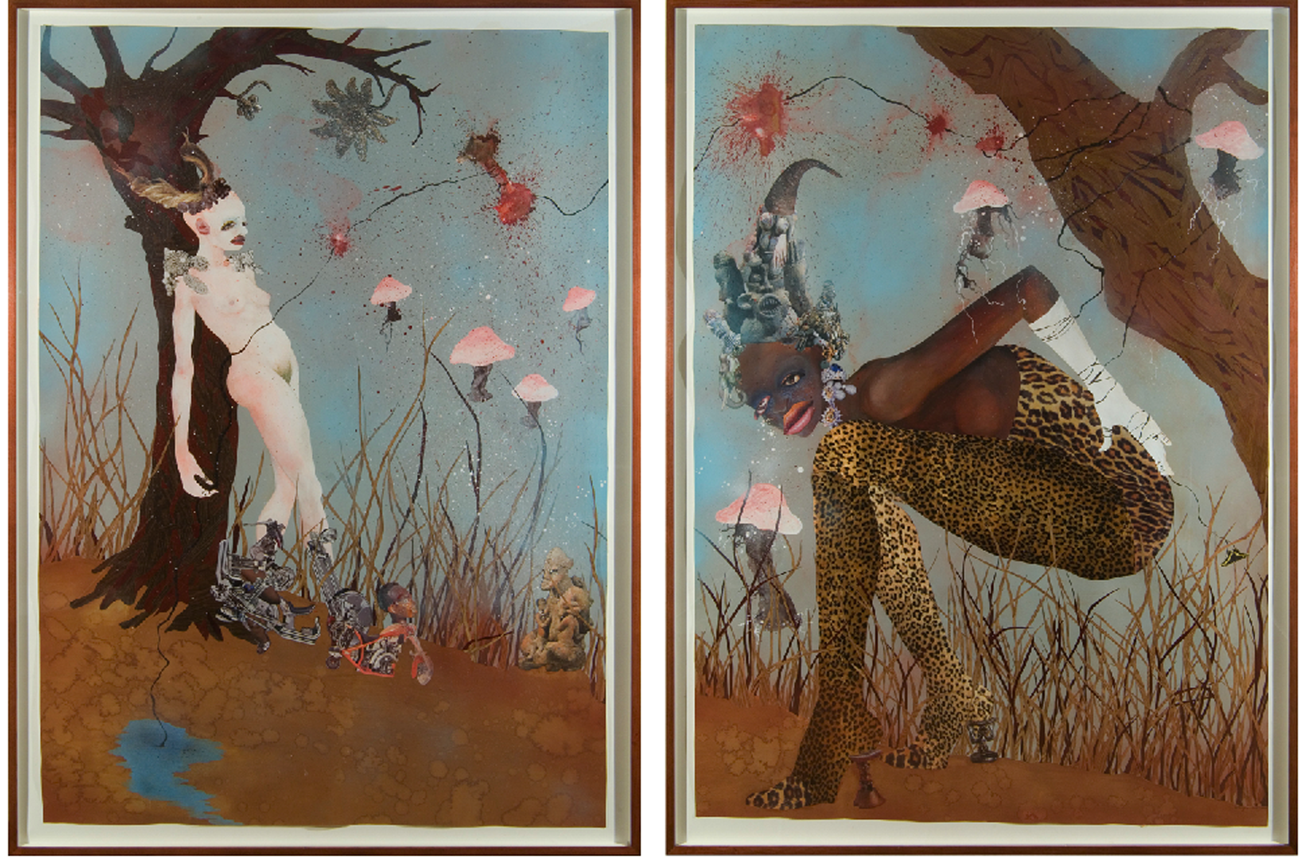 "People in Glass Towers Should Not Imagine Us," 2003 (mixed-media collage on paper) by Wangechi Mutu | Image Courtesy Salon 94, New York. © Wangechi Mutu
Sept. 19-Dec. 7, 2014
Wangechi Mutu at Bock Museum of Art, Northwestern University | Evanston, Ill.
"Wangechi Mutu: A Fantastic Journey" is a surreal exploration of gender, race and politics through the lens of fashion, African cultural traditions, science fiction and fantasy. Kenyan-born, Brooklyn-based visit website Mutu's first major exhibition in the United States features more than 50 works, including mixed-media collages, drawings, installations and video.
Friday, September 19, 2014 @ 6 p.m.
Philip J. Merrill Talk at Jack Shainman Gallery, 513 West 20th Street, 7th floor | New York.
Expanding the conversation around Nick Cave's "Made by White for Whites" exhibition of found object mixed-media sculptures on view at the gallery, Phillip J. Merrill, African American memorabilia expert and founder of Nanny Jack & Co., takes the audience on an "artfactual journey."
Friday, Sept. 19, 2-14 @ 6 p.m.
Jack Whitten Lecture at Museum of Contemporary Art San Diego | San Diego
On the occasion of "Jack Whitten: Five Decades of Painting" the artist presents a talk about his practice and the survey of more than 60 works.

Stills from "Chess," 2013 (HD video installation with three projections, black & white, sound, 10:25 minutes loop) by Lorna Simpson | Courtesy the artist; Salon 94, New York; and Galerie Nathalie Obadia, Paris/Brussels. © Lorna Simpson
Sept. 20, 2014-Jan. 4, 2015
Lorna Simpson at Addison Gallery of American Art at Phillips Academy | Andover, Mass.
An incredibly comprehensive retrospective, "Lorna Simpson" gathers more than three decades of the artist's photography and video works (above)—probing distillations that question and recast standard notions of race, gender, identity and memory—and features "Chess," 2013, a three-channel video installation making its U.S. debut.
Sept. 20, 2014-Jan. 4, 2015
Jack Whitten at the Museum of Contemporary Art San Diego | La Jolla, Calif.
Jack Whitten's approach to abstraction is distinct. Featuring about 60 works, "Five Decades of Painting" (at left) demonstrates that beyond innovation, content remains paramount to Whitten—from his contemplations of the violent tenor of the civil rights movement in the 1960s, to his more recent "Apps for Obama," a gesture to the president.
Sept. 20-Oct. 12, 2014
"Funk, God, Jazz, and Medicine: Black Radical Brooklyn," various locations | Brooklyn, N.Y.
A collaboration between Creative Time and Weeksville Heritage Center, the innovative exhibition highlights the art, culture and perseverance of black Brooklyn through four community-based commissions by Xenobia Bailey, Bradford Young, Otabenga Jones & Associates and Simone Leigh.
Sept. 20-Nov. 14, 2014
Saya Woolfalk at Capitol Skyline Hotel, Lobby | Washington, D.C.
New York-based artist Saya Woolfalk, who channels science fiction and fantasy in her work, presents three of her video projects produced over the last decade as a part of the ongoing Hothouse Video series.
Sept. 21, 2014-April 12, 2015
"On Paper: Alternate Realities" at Baltimore Museum of Art | Baltimore
Featuring 26 narrative works on paper on view for the first time, this inventive group show brings together several artists including Iona Rozeal Brown, Wangechi Mutu and William Villalongo, with outsized imaginations whose visual interpretations of popular culture bend toward exaggerated reality, fantasy, science fiction, myth and folklore.
Sept. 21, 2014-Jan. 4, 2015
African American quilts at Montclair Museum | Montclair, N.J.
A presentations of 29 quilts from West Alabama created during the last half of the 20th century, "From Heart to Hand: African-American Quilts from the Montgomery Museum of Fine Arts" gives historic context to quilting, an American tradition that melds art, culture and practical utility.CT
IMAGES: Above at left, "Apps for Obama," 2011 (acrylic on hollow core door) | Courtesy MCASD, Collection of Danny Fiest, Los Angeles. © Jack Whitten
SUPPORT CULTURE TYPE
Do you enjoy and value Culture Type? Please consider supporting its ongoing production by making a donation. Culture Type is an independent editorial project that requires countless hours and expense to research, report, write, and produce. To help sustain it, make a one-time donation or sign up for a recurring monthly contribution. It only takes a minute. Happy Holidays and Many Thanks for Your Support.